Sound Legal Advice & Representation
Experience You Can Trust
Serving Clients Across the Greater Phoenix Area
Workers' Compensation Attorney
in Phoenix, Arizona
Justin Greenberg
Attorney at Law
When I became an attorney, I saw a need in my community for quality legal representation in matters involving individuals and families facing big corporations and insurance companies. I started my own private firm in order to better serve my clients with the more personal, direct level of counsel they need during some of the most stressful and uncertain times of their lives. If you were injured on the job and are now seeking assistance to pursue the benefits and insurance coverage you need, I am ready to be your advocate. I am proud to serve the legal needs of clients in Chandler, Gilbert, Mesa, Tempe, and throughout the greater Phoenix, Arizona area. Contact me at Greenberg Law Center, LLC today to schedule a free consultation to discuss your situation.
LEARN MORE ABOUT ME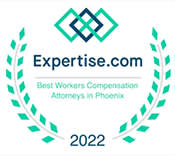 Providing You with Direction Through the Legal Process
How My Knowledge & Experience Can Benefit You in Your Legal Matters
Personal Attention
When you are dealing with an injury you suffered at your workplace or negotiating with insurance companies for coverage, you deserve an attorney who will be a dedicated advocate on your side. I will stand up for you as you seek the results you want.
Efficient Service
I pride myself on being able to handle my clients' cases with the highest quality of representation. I understand that you and your situation aren't exactly like any other and deserve individualized service in order to give you your best chance at success.
Collaborative Approach
I will work directly with you to understand the details of your situation, listen to your input, explain the process to you step by step, and answer any questions you may have along the way. It's my job to help you pursue a favorable and satisfying resolution.
"Justin was a great lawyer for my case. He went above and beyond for me. I couldn't ask for anything more. Thank you for everything."
— AARON W.
"I highly recommend him. He wasn't one of those robot lawyers. He was very professional, understanding, and human. Thank you for such a great experience."
— LV
"Justin is a great guy and works hard. A very honest attorney. And that is RARE! Fees are good and he very knowledgeable. Recommend to all."
— ANDY A.
Standing Up for You Against Insurance Companies
Facing insurance companies and legal issues in the aftermath of an injury can often leave you feeling overwhelmed and emotionally stressed. Individuals commonly feel overmatched against big corporations and entities. In order to level the playing field, you can turn to an experienced workers' compensation attorney for guidance and representation. I have dedicated my practice to helping my clients stand up for their rights and seek the rightful benefits and coverage that deserve after their injuries.
When you have suffered an injury while on the job, you have the right to seek compensation from your employer to help pay your medical costs, cover for your lost wages while you are unable to work, and provide you with security and financial stability while you focus on recuperation. Whether these matters are amicable or contentious in nature, I can act as your representative throughout the process to help you seek fair treatment.
There are times in workers' compensation cases in which not only the employer must be held accountable, but the insurance company as well. If the insurance company is too focused on their own bottom line, you can suffer from being shortchanged on your compensation. If the benefits are not what they need to be, or if there is an unnecessary delay in the approval of your coverage, you may be eligible to file a bad faith claim.
You don't have to carry the burden of dealing with these issues alone. Instead, let a professional stand up for you. As an experienced attorney, I will fight for you as we work together to pursue the result you deserve. I am proud to represent clients in Mesa, Tempe, Chandler, and Gilbert. If you need help with workers' compensation or insurance bad faith matters, contact me at Greenberg Law Center, LLC in Phoenix, Arizona and schedule a free consultation to discuss your case and get the process started.